Our Virtual Potluck: Part I
The table is set, the buffet dishes are in place, the napkins are neatly folded, the kitties are on their best behavior. It's time for the Manitou Winds Virtual Potluck!
Welcome! I'm so glad you could come. I think I hear our first guest arriving…
Yes, that's Christina Duperron, Manitou Winds' bassoonist. I kinda assumed she'd be the first to arrive. Christina is always the first to show up for rehearsals, too. We double-reed folks tend to be that way: we have instruments to warm up, reeds to soak and test… lots of things to think over before we can begin.
Yes! It's cold out there!! Christina has always lived in Northern Michigan and doesn't envy the snowbirds one bit. "My favorite thing about a Northern Michigan winter is the snow!" she says, "There is also something amazing about how desolate and incredibly quiet it can be… lying there in the snow with my daughter making snow angels, looking up to watch the clouds going by."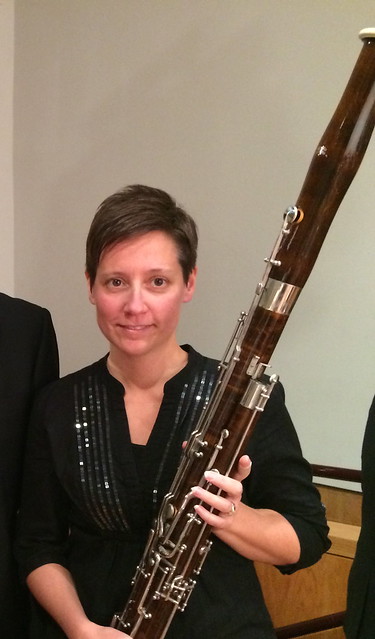 Christina owns and operates Duperron Designs, a decorating and interior design business in Benzie County. If she had more spare time, she would probably get back to making pottery — something she enjoyed in her college days. "My husband bought a wood lathe last year, so I think I'm going to try my hand at making turnings — it might satisfy my pottery interest. Maybe making some candlesticks or bowls would be nice!"
Between the demands of running her own business and making space for family time in the great outdoors, squeezing in time for bassoon practice can be challenging any time of year. "That's my least favorite part about the chamber group experience: starting with all new music right after finishing a concert!" she admits, "It can feel like that pile of homework you keep putting off… but, once you dive into it, it's not so bad!"
As the primary bass voice of Manitou Winds — whether the group is performing as a quintet or a trio — there's rarely a spot in a performance where Christina isn't either playing or counting rests just before playing! It's a tremendous amount of responsibility, but she takes it all in stride — right down to the three-octave range she has to cover in our music.
She explains, "My favorite part about being in a chamber group is the challenging music and the chance for my instrument to be heard!" In larger groups, especially symphonic band, the bassoon's part is often doubled by trombone, saxophone, bass clarinet, or a host of other instruments that blend well but often mask or completely block out the characteristic voice of the bassoon.
By contrast, each musician in a chamber group has a unique part and has freedom to make decisions about how the piece is performed. "I enjoy the freedom of interpreting the music as a group, being able to take liberties with solo sections, and just learning to listen to each other to figure out how our parts fit together," she says, "It's really all about eye contact and awareness of the other players — it's almost like we are reading each other's minds sometimes!"
Christina had no trouble coming up with a dish or two to bring to today's potluck. She and her family eat most of their
meals at home, and she takes her work in the kitchen as seriously as her work on bassoon. "I work until 5 most days and I have a 4-year-old who needs to eat by 6pm! Especially on weekdays, pretty much everything I make has to be thrown together at the last minute," she explains. Christina has a long list of standby recipes including chicken enchiladas, venison-barley soup, black bean and veggie sloppy joes… winter is all about those hearty comfort foods!
For today's potluck, she brings an appetizer and a dessert…
___________________________________________________________
Ham & Cheese Spread
Serves 24
This is Christina's favorite cheese spread recipe. "It's always been a hit when I bring it to parties. One friend said she could eat a whole bowl of it!"
8 ounces cream cheese or low-fat cream cheese
8 ounces chopped ham
1/4 cup chopped fresh parsley, divided
1 tablespoon minced green onion
1/4 teaspoon mustard powder
1/4 teaspoon Tabasco sauce
Combine all ingredients, reserving 2 tablespoons of the chopped parsley, in the bowl of a food processor. Pulse until ham is minced and thoroughly incorporated (scrape down the bowl if necessary).
To serve as a cheese ball: roll the mixture into a ball using a sheet of plastic wrap. Chill for at least two hours. Remove from the fridge and roll the ball in the remaining chopped parsley.
To serve as a cheese spread: spoon the mixture into a serving dish and top with remaining parsley as desired. Serve chilled with assorted crackers.
___________________________________________________________
Banana Split Bread
Serves 12-14
Christina says this is no ordinary banana bread; the chocolate chips make it an extra special treat. Most banana breads taste best when allowed to completely cool and rest about a day before slicing… if you can wait that long!
2 cups all-purpose flour
1 teaspoon baking powder
1/2 teaspoon baking soda
1/4 teaspoon sea salt
8 tablespoons unsalted butter, softened
1 cup granulated sugar
1 large egg
1 cup mashed ripe bananas (app. 2 large)
3 tablespoons milk
1 cup (6 ounces) semi-sweet chocolate chips
1/2 cup chopped pecans, toasted
Preheat oven to 350-degrees. Lightly oil a 9×5-inch loaf pan. Line with parchment and oil the paper as well. Set aside.
In a medium bowl, combine the flour, baking powder, baking soda, and sea salt.
In a large mixing bowl, cream the softened butter and sugar until light and fluffy. Beat in the egg. In a small bowl, combine the mashed bananas and milk. Add the flour mixture to the creamed mixture alternately with the banana mixture, mixing well after each addition. Fold in the chocolate chips and toasted pecans.
Pour into prepared pan. Bake at 350-degrees 60-70 minutes or until a toothpick inserted in the center comes out clean. Allow to cool in pan for 10 minutes before removing to a wire rack to cool completely.
___________________________________________________________
Looking for more recipes? Check out the other recent Woodwind Gourmet series:
Series I: Oboes, Oranges & Almonds
Series III: Notable Breakfasts